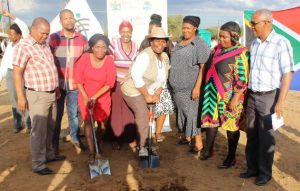 The Department of Culture, Arts and Traditional Affairs (CATA) requested the NWDC to construct libraries using an Alternative Building method.  The beneficiaries of this programme will be the local communities in the VTSD areas of Stella and Derby.
On 14 February 2018, the Stella sod-turning took place with the Derby event scheduled to take place at a later date.
Present at the ceremony was the Honourable MEC for CATA Ms Ontlametse Mochware accompanied by the Mayor. The public and learners were also in attendance.
The NWDC as an implementing agency of government is fulfilling its mandate in line with the Five Provincial Pillars and growing Villages, Townships and Small Dorpies (VTSDs).
The project was handed over to NWDC for implementation and the contractor is on site to commence.
The project is envisaged to be completed in the 2018/2019 financial year.
____________________
For more information on the project or about the Alternative Building materials, contact:
Tshepo Shai: Project Manager, NWDC
017 422 0067/8/9
---