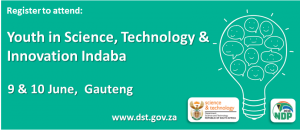 Youth are invited to register for the first-ever Youth in Science, Innovation & Technology Indaba.
The indaba is brought to you by the Department of Science and Technology (DST).  The event will take place in Gauteng during Youth Month, on 9 & 10 June 2017. Its primary objective is to ensure that youth are included and listened to when it comes to the future of South Africa's Science, Technology and Innovation (STI).
The indaba will include a ministerial roundtable to reflect on achievements, gaps and recommendations for better inclusion and support to youth for the knowledge economy.
Expected Outputs of the indaba are:
A Youth in Science and Innovation declaration
A Youth in Science and Innovation action plan
A Youth in Science and Innovation policy brief
A database on youth organisations working in STI
Social media to advance the STI dialogue with the youth
Register before 22 May 2017 via this the DST website – click here
For enquiries contact: tiyani.ngoveni@dst.gov.za
Download the information document here.
The Department of Science and Technology website is www.dst.gov.za
---