NWDC's dedicated Small Business Development Unit supports small business
Our dedicated team offers assistance and advice to small business owners.
We also have loan funding available to set qualifying businesses on their path to success.
Contact our Small Business Development unit for an appointment on 018 381 3667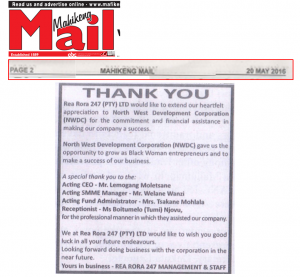 NWDC opens more Enterprise Development Centres to support small businesses
Following the opening of its pilot EDC in Madikwe in 2015, the NWDC will roll-out more Enterprise Development Centres throughout the province by April 2016.
Said NWDC Acting CEO, Mr Lemogang Moletsane: "The NWDC is excited to roll-out t

he next phase of Enterprise Development Centres to benefit the rural communities of our province. We are indebted to the provincial department of Economy and Enterprise Development (FEED) for their guidance and to the local municipalities involved for their assistance and support."
Operational EDCs include: (and the list is growing….)
Madikwe at Madikwe Shopping Complex, opened 2015
Lehurutshe at NWDC Offices in Lehurutshe Shopping Complex, opened 5 February 2016
Mogwase at NWDC Offices in Mogwase Shopping Complex, opened 10 February 2016
Sannieshof, opened 19 February 2016
Ventersdorp, opened 24 February 2016
Atamelang, opened 4 March 2016
For more information on the opening of the additional EDCs,  contact project managers Moses Kgatshe (083 4575 132) and Victor Mance (072 296 1600).
To learn more of NWDC's services offered specifically to small business, contact NWDC's small business division situated their head office on 018 381 3663.
Media releases download:
*   NWDC opens more EDCs to support small business – 3 February 2016
*   Lehurutshe EDC opens – 9 February 2016
The pilot Enterprise Development Centre was formally opened by the Deputy Minister of Economic Development, Mr Backson M Masuku and North West MEC for Economy and Enterprise Development (FEED), Ms Wendy Joy Nelson in the village of Madikwe during 2015.
See the article below for more on the pilot site and services offered at the Enterprise Development Centres.
______________
June 2015:
NWDC opens its first Enterprise Development Centre in Madikwe
A new era has dawned for small businesses in the North West Province, with the North West Development Corporation opening up a number of  Enterprise Development Centres across the Province.
The first Enterprise Development Centre will be formally opened ahead of Youth Day, on Friday, 12 June 2015 in the village of Madikwe, at the Madikwe Shopping Complex for the benefit of Moses Kotane West community.
The Madikwe Enterprise Development Centre (EDC) is a special project of the North West Development Corporation (NWDC) aimed at bringing its services of business support and economic development to communities.
Listen to the radio interview broadcast on North West fm to announce the opening of the centre …
The founding of the Madikwe EDC is the result of the NWDC adopting the vision of North West Premier Supra Mahumapelo to rebrand, reposition and renew villages, townships and small dorpies; and to embark on a journey to bring services to the people that need them most. The NWDC aims to establish more EDCs across the four provincial districts during the current financial year.
The community-based Enterprise Development Centre offers a full suite of complimentary services:
 General business advice
 Assistance with company registrations, including submitting documentation
 Funding advice and assistance in applying; where applicable
 Referrals -internally and to other institutions
 Hosting of local training workshops and seminars
 Business Meeting rooms
 Links to the local LED offices
 Provide platform for other development institutions
By establishing Enterprise Development Centres across the province, NWDC aims to:
 Provide businesses and enterprises the opportunity to contribute effectively to job creation and community development
 Demonstrate support for local enterprises.
 Enhance the ability of local enterprises to participate in the mainstream economy.
 Build capacity that will sustain economic growth and development in communities.
 Assist small enterprises and cooperatives, particularly those in the agriculture, culture and tourism sectors.
 Empower entrepreneurs from the designated groups of youth, women and people with disabilities.
The EDCs are supported by a network of partners who will provide material, leaflets, brochures and valuable access to information. The list of partners include SEDA, IDC, SEFA, the dti, DSBD, NYDA and local municipalities' LED offices.
The NWDC looks forward to welcoming and assisting the Madikwe community to establish and grow their business ventures.
Madikwe Enterprise Development Centre
Opening Hours: Monday to Friday, 08:00 – 16:30
For more information on the services offered to small businesses, contact NWDC's small business division.
Speak to Mr Welane Wanzi on 018 381 3663.
__________________________________
How to apply for a Business Loan
There will come a time when you decide to start your own business and attempt to realise your dreams, goals  and aspirations. When that happens you will probably need to apply for a business loan elsewhere, as most people do not always have enough capital or savings to start-up or expand on their own without borrowing
The following important points should always be remembered when applying for a loan:
Submit a comprehensive business plan
Apply well in advance because it takes time to process a loan application, register securities, etc.
Complete all the required application forms
Be co-operative at all times
Have a contingency plan available
Be patient when applying for large loan amounts because the viability studies still have to be conducted which are normally slightly longer before decisions are made and the loan paid out
It is always preferable to hand in your loan application at least a few months before you require the
Apply at as many finance institutions as possible so that you will be in a position to choose the best deal or option if more than one grants you a loan
Do not give up if your loan application is rejected the first time. Listen attentively to the reasons given and then make the necessary changes and resubmit it
If your loan application is constantly rejected and the advice given by everyone is that the business is not viable, then it would probably be advisable to learn to accept it for your own good and to try something
Do not get carried away by unviable, stubborn dreams and ideas that could jeopardise your savings, family life, career etc., and that will put you in a difficult position whereby you will be paying for your mistake for
Be ultra-cautious and listen to good advice. This does not mean you must give up if you believe in your idea. It might merely mean that you should refine your idea slightly to make it viable.
• Always believe in yourself and never give up. Remember, if you have the power to dream, you have the power to make it happen.
Our friendly Fund Administrators are positioned throughout the North West Province to bring service delivery closer to you!
Ngaka Modiri Molema Keo Twala 018 – 381 3663/4
Moretele/Odi/Brits Brian Nkhumeleni 012 – 719 8670
Dr Kenneth Kaunda Vincent Motabogi 084 601 0442
Dr Ruth Mompati Vincent Motabogi 084 601 0442
Bojanala Moss Sereme Moss Sereme 014 – 597 3405