Your reliable supplier in the globally expanding Fluorochemical market
With a proud record of more than two decades of experience in fluorspar beneficiation, Pelchem produces and sells a large portfolio of fluorochemical products.
The company boasts a total of 25 products and services being delivered to various local and international speciality gas markets in 27 countries on 6 continents, including the USA, Germany, India, China, Brazil, Canada & Switzerland.
Pelchem produces these high quality products from eight commercially operated production plants, situated in the larger Necsa Eco-Industrial park, located at Pelindaba in the North West Province of South Africa.
View the comprehensive product and applications portfolio.
The company owns the trademarks Pelchem™, Fluoro Pack™ and SF2P™  (Surface Fluorination), as well as a number of trade secrets and ten families of patents.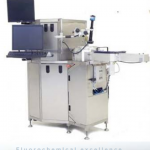 Refer to the table below for their list of commercially available products.
| Product | Formulae | Packaging |
| --- | --- | --- |
| Anhydrous Hydrogen Fluoride | AHF | 18.5ton ISO Tanks Our tanks |
| Anhydrous Hydrogen Fluoride | AHF | Client's tanks |
| Sodium Hydrogen Fluoride | NaF.HF | 25kg bags, 1000kg bulk bags |
| Sodium Fluoro Silicate | Na 2 SiF 6 | 25kg bags, 1000kg bulk bags |
| Fluoro Silicic Acid | H 2 SiF 6 | 210lt drums 240kg |
| Fluorine 100% | F 2 | 50lt Gas Cylinders, 2.15kg F |
| Fluorine 20% N2 80% | F 2 /N 2 | 50lt Gas Cylinders, 2.15kg F |
| Xenon Difluoride | XeF 2 | 0.3lt,1lt,3lt,15lt cylinders, PTFE bottles |
| Nitrogen Trifluoride | NF 3 | 50lt Gas Cylinders, 20' & 40' ISOtainers; |
| | | Customer supplied packaging |
| Molybdenum Hexafluoride | MoF 6 | Various size cylinders |
| Perfluoroheptane | C 7 F 16 | 20 lt drums |
| Perfluoroalkane mixture | C 7 - C 21 perfluoroalkanes | 20 lt drums |
| Surface Fluorination technology package | - | Technology package |
For order enquiries or analytical services, contact cheminfo@pelchem.necsa.co.za or
Tel 012-305 4444 or visit www.pelchem.com