The North West Province is the ideal place for commercial ventures – and the North West Development Corporation's leadership guides the way as a valuable business partner
The current Board of Directors is led by Mr Dali Duma as the Chairperson.  The NWDC Board further functions in four sub-committees that ensure a focused execution of its leadership role, namely Finance and Investment Committee, Human Resources Committee, Audit & Risk Committee, Tender Committee and Social & Ethics Committee.
Read a recent Q&A interview done with Mr Duma.
The NWDC Board of Directors, through its Chairperson, is accountable to the Shareholder, which is the provincial government of the North-West Province.
On behalf of its staff, clients and stakeholders, The NWDC wishes the Board a visionary and fruitful term of office.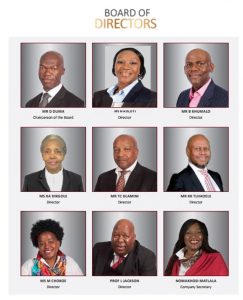 Board of Directors photo diagramme image courtesy of IE Communications, designers of the NWDC Annual Report 2016.17 and 2017.18
For more information on the NWDC Board of Directors, contact:
Nomakhosi Matlala
Company Secretary
NWDC (SOC) Ltd
Rustenburg Regional Office
014 594 2570