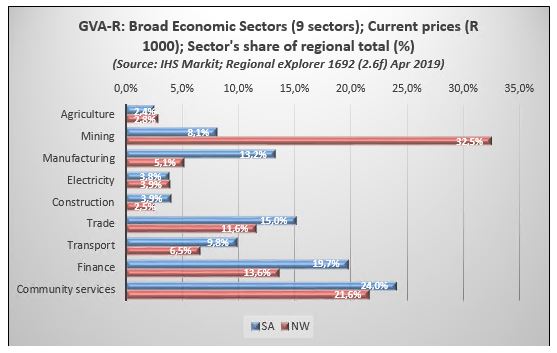 The economy of the North West Province is dominated by mining, contributing 32.5% to the provincial economy in 2018, followed by manufacturing at 5.1%, agriculture at 2.8%, and construction at 2.5%.
The North West contributed 23.9% of national mining and 6.9% to national agriculture, but only 2.3% to manufacturing and 3.8% to construction.
The graph above indicates the nine main sector contributions to the economy of the North West as compared to South Africa.
Source: IHS Global Insight: Regional eXplorer 1692 (2.6f) April 2019 figures.
Download the latest NWDC-published Economic Data Reports from our digital library
Brief overview of the North West Province economic sectors:
Agriculture and Agro-processing
North West is considered to be an important contributor to the Southern African food basket with an estimated 43.9% of the province categorised as "arable" land. There are three distinct climate regions which allow a wide variety of agricultural activity. The drier western region is home to considerable cattle and game farming as well as hunting. The central and southern parts of the province tend to be dominated by maize and wheat farming, but also include the production of cash crops. The eastern and north-eastern region, on the other hand, receives a fair quantity of rainfall and therefore accommodates the cultivation of a variety of crops. More than 20% of South Africa's maize crop is produced in this province. Other agricultural products produced are livestock (cattle, poultry and game), sunflower seeds and oils; nuts; citrus and tobacco.
Arts and Culture
Arts and culture go beyond visual and emotional stimulation, it also has economic advantages and potential. The provincial Department of Arts, Culture, Sports and Recreational Affairs (dcata) has various programmes in place to promote art throughout the province
Tourism
Total Tourism spend as a percentage of GDP (Current prices) contributed 7% to the North West Economy (2018) of which 64% was in the Bojanala District. 83% of the North West's tourism spend came from the six local municipalities of Rustenburg, Brits, Moses Kotane, Zeerust, Potchefstroom, Christiana /Bloemhof.
Traditional tourism jobs in the North West are estimated at more than 33,000.
Cultural, natural and historical heritage products include the Taung Heritage Site, the Vredefort Dome Heritage Site and Mahikeng Capital City. Natural and wildlife attractions include 14 Nature Reserves of which Madikwe Game Reserve and Pilanesberg National Park are the most well known. Other attractions include Sun City and Hartbeespoort Dam with a host of adventure tourism opportunities.
Agro-processing and General Manufacturing
A current priority is the establishment of an Agro-Industrial Park, including industrial and commercial facilities that are dedicated for production and business services to attract new businesses. It seeks to attain this by providing integrated infrastructure in one location and providing localised environmental controls that are specific to the needs of the industrial area, to:
support the beneficiation of cattle through a world-class economy of scale abattoir, meat processing and packaging plant and cold storage facilities; and
support the beneficiation of cattle hides through an economy of scale tannery, leather furniture manufacturing plant, leather footwear manufacturing plant, leather apparel manufacturing plant and shared warehousing.
The province also hosts manufacturing facilities that include automotive parts, non-metallic minerals, fabricated metals, food processing, soya protein, cereals and numerous other products
Mining and Mineral Beneficiation
There are 300 active mines in the North West Province. The mining sector contributed 32.6% of regional GDP in 2017 amounting to R79 billlion, with about 15.6% (133 976 jobs) of total employment in the province coming from mining.
Platinum group metals is the major product of the mining sector in the North West as the province contributed 40% of world's platinum and 55% of the platinum in South Africa in 2017. The North West also produces 70% of the dimension stone and granite, 32% of chrome and 20.7% of gold of South Africa. Other minerals produced in the province include diamonds, vanadium, slate, limestone, nickel, silica, manganese, phosphate, fluorspar, zinc and andalusite.
(Sources: DMR Statistics Combined
1. Omphemetse Moumakwa, Mineral Economist: PGM and Gold;
2. Refiloe Motsi, Mineral Economist: Industrial Minerals;
3. Pieter Perold, DMR, Mineral Economics;
4. GFMS Gold Survey)
Energy and the Green Economy
The province has a high potential for renewable energy opportunities from cogeneration, municipal waste conversion, biomass (converting alien invasive plants into energy) and solar technologies including off-grid energy for rural areas. Technologies that contribute to energy efficiency are also in demand as 63% of the energy of the province is consumed for mining activities.
Services
Business and financial services contribute 13% to provincial GDP and account for 12% of employment. Significant opportunities for Business Process Outsourcing, Offshoring and contact centres (BPO&O) exists within the sector.
ICT
ICT is regarded as a key enabler for economic growth and the province strives to develop world-class infrastructure to attract investment.
Research, Development and Innovation Support
The province also offers Research, Development and Innovation support to prospective investors. The North West University (NWU) has two campuses in the province that boast a team of expert trade researchers.
An example of their expertise is that the World Trade Organisation (WTO) has awarded one of its seven research chairs on trade to the Trade Unit of the University. TRADE (an acronym for Trade and Development) is a research focus area at the North-West University (Potchefstroom Campus) specialising in the fields of international trade and economic development.
The University is also known for its engineering capabilities including mineral beneficiation and a hydrogen facility. The pharmaceutical and health faculties are also of international standard. Innovation and support to innovators are regarded as the second best in South Africa at this University.
Top 1o Postive Rankings for South Africa as per the WEF Global Competitiveness Rankings 2018/2019:
Out of 140 economies, South Africa ranked 67th (62nd in 2017) and received the following top 25 rankings on the indicated index components:
2nd: Market Capitalisation as a percentage of GDP – indicates the importance of the Stock Exchange
3rd: Insurance premium as a percentage of GDP – indicates the importance of the insurance industry
4th: Cost of starting a business as a percentage of GNI per capita (GNI = Gross National Income)
5th: Road connectivity
9th: Mobile-cellular telephone subscriptions per 100 pop
11th: Domestic credit to private sector as a percentage of GDP
11th: Conflict of interest regulation
14th: Labour tax rate
18th: On pillar 9 – Financial Systems
24th: Insolvency Regulatory Framework
_____________________
For more data and clarity on the North West province economy, contact the NWDC's Research and Development unit at +27 (0)14 594 2570