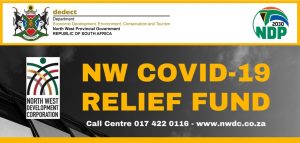 Welcome to the home of  The North West Province COVID-19 Relief Fund
The fund is aimed at assisting SMMEs, co-operatives and informal traders of the North West Province who were negatively affected by the Covid-19 pandemic.
Following the two-month application window, NW Covid-19 Relief Fund applications for the Formal sector closed on Friday, 31 July 2020.
Online registration and application for the informal sector is still open – click HERE to register and apply
Click HERE to find out which supporting documents are required for informal sector submissions
Manual option:
Informal sector applicants can opt to apply manually by downloading the application form and submitting the completed application form along with the required supporting documents to nwrelieffund@nwdc.co.za.
Downloadable manual application: Informal Businesses