A reliable supplier-exporter in the globally expanding Fluorochemical market
With a proud record of more than three decades of experience in locally produced fluorspar beneficiation, Pelchem produces and sells a large portfolio of fluorochemical products.
The company boasts a total of 14  products and services being delivered to various local and international speciality gas markets in 27 countries on 6 continents, including the USA, Germany, India, China, Brazil, Canada & Switzerland.
Pelchem produces these high-quality products from eight commercially operated production plants, situated in the larger Necsa Eco-Industrial park, located at Pelindaba in the North West Province of South Africa.
The company owns the trademarks Pelchem™, Fluoro Pack™ and SF2P™  (Surface Fluorination), as well as a number of trade secrets and ten families of patents.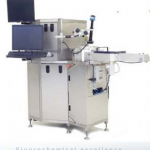 Download these informative product brochures:
 To find out more about importing or purchasing Pelchem's products, please contact the Trade and Investment office of the NWDC and ask to speak with Lovemore, Rego or Poloko – 014 594 2570
For direct order enquiries or analytical services, contact cheminfo@pelchem.necsa.co.za or
Tel 012-305 4444 or visit www.pelchem.com