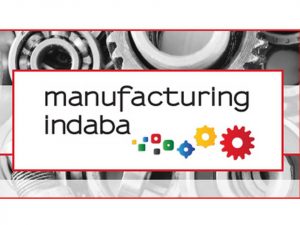 Expose your products and meet buyers in the manufacturing sphere.
The NWDC invites manufacturers across all sectors from the North West Province to exhibit at the 2015 Manufacturing Indaba
The second annual Manufacturing Indaba will be hosted at Emperors Palace in Ekurhuleni, Gauteng on 29 & 30 June 2015.
"The aim of the Manufacturing Indaba is to bring together business owners, industry leaders, government officials, capital providers and professional experts to discuss challenges and to brainstorm solutions. The success of our nation depends on a strong and innovative manufacturing base. We must continue to work together to promote prosperity through manufacturing, science and innovation." – www.manufacturingindaba.co.za
North West based producers who meet the below qualifying criteria, are invited to apply to exhibit through the NWDC by contacting Marketing Specialist Sam Mudramuthoo on 014 594 2570.
The NWDC will cover the stand and exhibition costs of qualifying companies from the province. Other related costs such as transport and accommodation will be for the particpants' expense.
Applications to exhibit close on 29 May 2015.
Qualifying criteria to exhibit:
A minimum of two years in operation
A minimum of R300 000 asset base
A minimum of R500 000 annual turnover
Must employ a minimum of 10 employees
FICA Compliance
Other basic statutory requirements per sector (company registration, tax clearance, company profile, export certificate, copies of Identity documents of directors, copy of business physical address, relevant insurance, all sector licencing, accreditation and registrations)
Read more on the event's partners, which include the dti, Manufacturing Circle and Deloitte
---