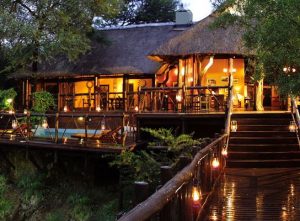 The Madikwe River Lodge is calling for proposals from reputable tourism agencies to provide marketing and sales services to the resort.
Golden Leopard Resorts through the North West Development Corporation, owns the Madikwe River Lodge.
Click HERE to access the full document containing all the details.
All prospective bidders are required to attend the compulsory briefing session to be held on 6 March 2019 at 11:00 at the Madikwe River Lodge.
Madikwe River Lodge, in the North Western Province, is situated deep within the heart of Madikwe Game Reserve alongside the borders of Botswana. This Lodge is four and half hours drive away from Johannesburg.
Madikwe River Lodge offers exclusive accommodation in its sixteen secluded split-level thatch-roofed chalets set in the cool tranquillity of riverine forest, offering exquisite comfort in the wildness and splendour of Mother Africa.
The lodge is surrounded by 75 000 hectares of African sand veld; this luxury lodge is ideally positioned on the Groot Marico River in a malaria-free area, which combines its ruggedness of nature with the best quality and luxury.
---