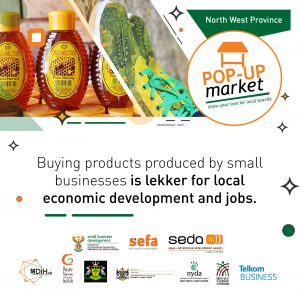 The Small Enterprise Development Agency (Seda) in North West will be hosting a Pop Up Market Hybrid Event from 30 September to 3 October 2021.
The Pop-Up Market will be erected at the Mmabatho Convention Centre under the theme "show your love for local brands".
NWDC is participating in the market, both as an exhibition partner and as a sponsor, in that that the NWDC has sponsored the Mmabatho Convention Centre as the venue for the market for the three days.
Covid-19 has negatively affected our economy and entrepreneurs are in dire need of business development and support. In response to this, Seda as a facilitator in the ecosystem is hosting the Pop Up Market hybrid event in collaboration with National and Provincial partners from the government and the private sector.
Over 50 SMMEs from the North West have been identified and will be exhibiting at the Pop Up Market, an initiative supported by local radio station coverage and social media campaigns to raise awareness and bring much-needed customers to local SMMEs.
Come show your love for local brands, and support the Pop Up Market starting 30 September.
---