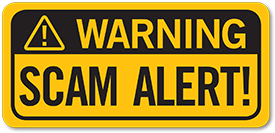 The NWDC wishes to advise its clients and the public to be wary of a tender scam that it has uncovered.
Fraudsters would email or contact small business owners informing them that they had been issued a government tender, usually to the value of a large amount.
The tender documents pretend to be issued by national government departments, even showing their logos.
Such an email with seemingly genuine documentation would be sent to the business, despite the fact that the owner had not formally submitted any bidding documents, nor attended a tender briefing meeting.
Click here to download an example of such fraudulent documents that were sent to an unsuspecting NWDC client.
The NWDC advises all business owners to exercise extreme caution when receiving such, or similar correspondence.  Should a client be uncertain whether such documentation is authentic, they are encouraged to contact their nearest NWDC branch and ask for the assistance of the NWDC's Small Business Division.
Red lights to look out for include:
A business cannot be informed that it has been awarded a tender or even a purchase order if it did not formally apply by means of submitting formal bidding documents or a formal quotation (You cannot be awarded a tender "out of the blue")
The tender awarded is for a service or product that the client does not supply, thus third-party suppliers are suggested (who are in cahoots with the fraudsters, in this case, all of them were businesses based in Cape Town…)
Strange email addresses are used in the correspondence – such as an address ending on    .gov.co.za
Blurred or poor quality logos being used
Poor spelling and grammar
Unconventional (dodgy) delivery addresses are provided for the products required
Please consult the nearest branch of the NWDC should you have received such correspondence or email tsakanem@nwdc.co.za
---