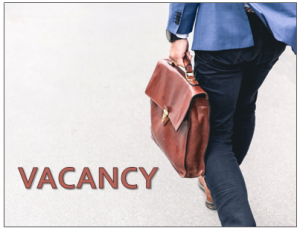 The North West Development Corporation (SOC) Ltd is an organisation that promotes industrialisation of the economy, attracting investments, promoting exports, and overcoming the legacy of economic imbalances.  The NWDC has the following employment opportunity:
POSITION:              COMPANY SECRETARY
CONTRACT:            5 YEAR FIXED TERM CONTRACT
LOCATION:            HEAD OFFICE, MAHIKENG
JOB GRADE:             P05
SALARY SCALE:      R606 522.00 – R758 152.00 P/A
To be considered you must meet the following requirements:
An LLB Degree or equivalent
A Post Graduate Law Degree will be an added advantage
A Company Secretarial and Governance Qualification will be an added advantage
A minimum of 5 – 6 years proven relevant experience
Must have a valid driver's license (minimum code 08)
Extensive knowledge of King IV and Companies Act or equivalent
Having a diplomatic approach and the confidence to provide support to high-profile company staff and board members
Proficient in Microsoft Suite
The applicant will be reporting to the Chief Executive Officer and the responsibilities amongst others are:
Providing guidance to Boards' and Committee members as to how their responsibilities should be properly discharged in the best interests of the organisation in terms of their duties, responsibilities, and powers,
Assessing specific training needs of directors regarding fiduciary/governance responsibilities,
Responsible for the induction of new members, orientation and on-going training and education of directors,
Central source of guidance and advice to boards and within the group on matters of good governance and making directors aware of any laws relevant to/affecting the organization,
Direct channel of communication to Chairpersons of the Boards, providing comprehensive practical support/guidance to them,
Direct channel of communication to Chairpersons of the Boards, providing comprehensive practical support/guidance to them,
Preparing and managing the schedule of the boards and committee meetings for the year,
Responsible for developing Charters/Terms of Reference and for keeping them up-to-date and ensuring adherence by the boards and committees,
Proper recording, approval, and circulation of boards and committee minutes in accordance with the prescripts of the Companies Act and King IV,
Liaising with Committee Chairpersons on timing/frequency of meetings,
Developing Annual Work Plans for the boards and committee meetings,
Ensuring the implementation of the resolutions taken by the boards and committees by management,
Ensuring that boards procedures are followed and reviewed regularly and that applicable rules and regulations for the conduct of the affairs of the Boards are complied with;
Compiling Committee reports for the Boards.
Note:   The successful candidates will be required to sign a Performance Agreement Contract.
The NWDC is committed to the achievement and maintenance of diversity and equity in employment especially in respect of race, gender, and disability.
Interested persons are requested to forward detailed resumes with a cover letter and relevant certified academic qualifications to the  email recruitment@nwdc.co.za.
Enquiries may be directed to Ms. Phemelo Matli (HR Manager) on 018 381 3663.
Closing date:  22 December 2020
No late applications will be considered. NB:  NWDC reserves the right not to appoint. If a candidate is applying for more than one position, a separate application is required. It is the responsibility of the applicant to ensure all foreign qualifications are verified by SAQA. Communication will be reserved for shortlisted applicants only, if an applicant does not hear from us within 21 days after the closing date, please consider your application unsuccessful.
---